Player's Journal
2015 2014 2013 2012 2011 2010 2009 2008 2007 2006 2005 2004 2003 2002
---
12/20/2010
Lamprey Christmas

Last night, Dan DeGrace, the owner of the Lamprey River Tavern, had a Christmas party for his staff and selected guests; Mal and I were graced with an invitation. When we arrived, there was a handwritten sign on the door, reading "Closed for Private Party." We felt somewhat honored to be able to open the door and walk in. The tavern was tastefully decorated with greens and ornaments, Serius was playing Christmas tunes, the bar and seating area were well populated, though not oppressively crowded. We said hello to Dana, who often waits on us when I perform there on Sunday mornings, and, working our way to the back of the room, we were warmly greeted by Dan. I asked if he had this kind of party every year. He said, "No, in the past it's been pizza and beer for the staff, but this year I wanted to do it right and extend it to staff and guests." And he did it right. He provided a few free drinks and a bounteous assortment of hors d'oeuvres: broccoli quiches, artichoke dip, fresh vegetables, and of course all the meat treats that neither Mal nor I eat. But we had more than our fill of excellent food. Dan made the rounds, and always made it a point to stop by our table and ask us how we liked each appetizer. We stayed long enough to hear a couple of tunes by the very good local band he'd hired for the occasion; people applauded warmly for the band, and everyone was having a great time. When we left, Dan thanked us for coming out for his party.
For a few years I've played at the Tavern about once a month with PJ Donahue and various other musicians (see gig journal). Often Dan sits in and plays a few blues tunes on harmonica, and when he does I usually call some of the old Chicago blues tunes I used to play in the 60's, "Got My Mojo Workin'" and "Born in Chicago." We have a ball playing that stuff, and so does Dan.
I've played at hundreds of restaurants and bars over the past fiver decades, and rarely have I been treated with as much respect and appreciation as I've enjoyed at the Lamprey River Tavern. The Christmas party was a great reminder of how much I enjoy having such a great local venue to play, with good musicians, and good people all around.
---
12/12/2010
Background Music


Saturday, while I was playing a solo gig at the Artists' Open House at One Washington Square in Dover, a woman bought one of my CDs and made a comment I've heard many times: "This is such wonderful background music." Now, it's true that virtually all my gigs are "nothing but" background music. But I try to play music that has enough depth that people can actually listen to it. I'm reminded of what Leonard Bernstein wrote in The Infinite Variety of Music:
... we hear too much music.... I didn't say we I listen too much; I said we hear too much. There's a big differnece between listening -- which is an active experience, participating in the music, riding with it up and down and in and out of its involvements and evolvements -- and just hearing, which is completely passive. That's what we've got too much of -- the eternal radio and TV set, this cursed Musak, plaguing us from coast ot coast, in jets and trains and depots and restaurants and elevators and barbershops. We get music from all sides, music we can't listen to, only hear. It becomes a national addiction; and music therefore becomes undifferentiated. We reach a saturation point; our concentration is diminished, our ears are too tired for real listening. ... Music is hard. It's not easy to listen to a piece and really know and feel what's going on in it all the time. It may be easy to take, or pleasant to hear for many people; it may evoke fanciful images in the mind, or bathe them in a sensuous glow, or stimulate, or soothe, or whatever. But none of that is listening. And until we have a great listening public, and not just a passively hearing one, we will never be a musically cultured nation.
---
12/05/2010
Joy of Reading

A guy named Ken Cooke, from Australia, emailed me a while back with some nice comments about my sight reading article on iBreatheMusic.com.
thanks for a great article ..I am a long time player, but only in the last couple of years have i taught myself to read. I absolutely love it..it has opened up a whole new world of tunes, gigs. your article gave me some great tips, so i can streamline my practice schedule..cheers Ken - AUSTRALIA
Ken just sent me another email, and it looks like he's made great progress in reading, and is reaping the benefits. I hope other guitarists find Ken's comments inspiring.
Reading has been one area of my playing that I always try to improve in..and it is slowly getting better each month. I purposely scare myself now at solo gigs, and make myself read new pieces, to keep myself in check!
---
12/04/2010
Get Started


I often write short exercises and add them to my practice routine. I want to start adding some of those in my Player's Journal. They fit in better here than on the lessons page, because they are so short. It's easy enough to notate the exercise in Notion, grab a screenshot of the notation, record the exercise using n-Track Studio, and post.
Today's exercise is based on the descending ii-V progression in "I Can't Get Started."
(Click the image to download the PDF.)

---
11/13/2010
Three Baba Day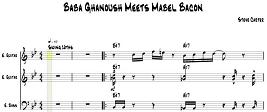 Today was a three-Baba day.
This morning I played at Lamprey River Tavern with PJ Donahue on drums, and Roland Nicol on bass. We played a lot of jazz standards. Roland called "Memories of Tomorrow," which I hadn't played in years, and it was a blast playing it. We played the most recent composition in my Baba Ghanosh series, "Baba Ghanosh Meets Mabel Bacon." Here's a home studio recording of the tune:
PJ's 2-year-old daughter, Molly, was at the tavern, dancing to the band. Later in the morning, Molly had a minor mishap -- her arm pulled out of the socket -- which necessitated a trip to the hospital. But the doctor popped the arm back in the socket, and, last I heard, Molly was eating a popsicle and asking to go to the playground.
In the afternoon I played solo guitar at a cancer fund raiser, at foobar in Portsmouth. Mixed in among "Girl From Ipanema," "Don't Get Around Much," and such, I played "Baba Ghanosh" and "Baba Ghanosh at the Turkey Crossing." (Home studio recordings:)
At foobar, there was a girl about Molly's age dancing to my music. She did not dislocate any appendages.
It was a good day.
---
11/08/2010
Playing Benefits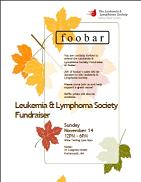 On Sunday I'll be playing a solo gig at foobar in Portsmouth, for the Leukemia & Lymphoma Society fund raiser. On Friday night, the "Gormet Lounge" show on WXGR FM 101.5 will feature foobar, which is a new restaurant in Portsmouth. The owner, Joe Hults, will be preparing food which will be sampled by 30-40 guests all while airing live to the radio audience. The show will be a mix of commentary about the food he's preparing, information about foobar, it's menu and upcoming events, music and normal radio commercials. The show will highlight the upcoming fundraiser. I'll play background music during the broadcast.
The fundraiser will benefit cancer patients, the radio show will benefit the Leukemia & Lymphoma Society and the restaurant, and my background music will be a benefit -- or so I hope -- to those at the fundraiser, at the radio studio, and in the radio audience. It will also give me a chance to play in a new venue, which, hopefully, will benefit me with some future gigs. Joe commented to those involved,"All in all I think it will be a win, win, win." I agree.
---
10/02/2010
Mary Gatchell Concert 2010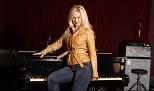 Last night Mal and I went to hear Mary Gatchell in concert at the Leddy Center in Epping, NH. We had really enjoyed her concert last year. This year's concert was even better. Once again she had Rodney Holmes on drums, and once again he was amazing. The group performed songs from her new CD, Saturn Return. The title track is breathtaking. Rodney plays on the album. Great music!
---
09/15/2010
Blues Eyes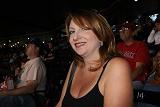 Our daughter Sheri is expecting a baby in November. In honor of that, and her birthday, which is in October, her friends recently threw her a party which was a combination of baby shower and birthday party. For the occasion, Mal and I made a CD for Sheri with readings, music, and excerpts from tapes I'd made of Sheri when she was a baby. I included on the CD the first song I ever wrote for Sheri, "Blues Eyes." I made a quick recording of the tune in my home studio. First I wrote a basic drum part in Notion and exported that as a wav file, then imported that into n-Track Studio, and overdubbed bass and three guitar tracks. It came out pretty well. Sheri liked it.
---
08/10/2010
Most Popular Topics

I added the Player's Journal Index to my site late last year, and I've been curious which are the most-read topics. So several months ago I wrote some report pages to track the topics that readers have clicked on. You can read about it here.
---
08/05/2010
New Column on JazzGuitarLife

My new column has just started on JazzGuitarLife.com. The first article is on using triads for comping. I'll be writing a new article for this column every month or so. I like the way the site's creator, Lyle Robinson, has redesigned the site. It continues to be an excellent online resource for jazz guitarists.
---
08/01/2010
Humanity In Music

A while ago I added a feature to my Player's Journal, a link to jazz quotes from AllAboutJazz.com. Today's quote was from Booker Little, and I really agree with what he says:
My own feelings about the direction in which jazz should go are that there should be much less stress on technical exhibitionism and much more on emotional content, on what might be termed humanity in music and the freedom to say all that you want.
—Booker Little
---
08/01/2010
Eleven in Ten



I just finished the longest run of jazz gigs I've ever done: eleven gigs in ten days. In a previous entry I'd said it was nine in ten days, but I had counted wrong, so it was ten, and then we got a last-minute call to play an additional gig at Jonathan's, a cast party for the Ogunquite Playhouse, so it was eleven. Eight at Jonathan's Restaurant in Ogunquit, ME; two at Ten Center Street in Newburyport, MA; one at Lamprey River Tavern in Newmarket, NH. A lot of work, but also a lot of fun!
---
07/28/2010
Blame It On the Loon

After a long, and very enjoyable run of 7 gigs in 6 days, I declared today as a day off. Mal, Barbara Hughes, and I went to the Barn Tavern here in Dover for lunch, and loitered on the deck in the sun, overlooking the Cacheco River, for a few hours. We came back to our place, and Barbara played us her new song, "Blame It On the Loon." I liked the song a lot, so I suggested we do a quick recording of it in my home studio. I plugged her guitar into one channel of the Edirol UA-20, and my SM58 into the Behringer premamp and then into the other channel of the Edirol, and recorded her, using n-Track Studio. I added a little reverb and compression to the vocal, and we got a very good reference track out of it, which will be used by the various band members in preparation for our upcoming gig in September. Not a bad day's work -- for a day off.
---
07/23/2010
Nine in Ten



I'm just starting the longest run of jazz gigs I've ever done: nine gigs in ten days. Six at Jonathan's Restaurant in Ogunquit, ME; two at Ten Center Street in Newburyport, MA; one at Lamprey River Tavern in Newmarket, NH. I'm excited!
---
07/04/2010
Summertime


Summertime, and the livin' is easy. Fish are jumpin', and the cotton is high. -- George Gershwin
Last summer John Melisi and I recorded Gershwin's "Summertime" on our third CD, Third Course.
On that take, I was going for the slow, sultry feel that Gershwin had in the original. But as we played the tune more and more on gigs, I tried various tempos, and eventually settled on a slightly faster tempo. Here's a live version from a gig last spring; during the vamp, John says, "Perfect tempo."
This summer is shaping up to be a good gigging time for us. (See Upcoming Performances.) Every Thursday and Saturday night at Jonathan's in Ogunquit, ME, every Friday night at Ten Center Street in Newburyport, MA. It's great to have steady jazz gigs, especially in this down economy, so I would say I'm fortunate. But being fortunate is not simply a matter of being lucky. John landed the gig at Jonathan's for us two years ago; it was relatively easy for him to land the gig because he'd played there many years ago, for many years, and he had earned the owner's respect and gained his friendship. At Ten Center Street, John landed the gig through sheer determination and persistence. But landing a gig is not like landing a fish; once you've landed a gig, the work has only just begun. Every night after that you need to earn the right to continue the gig. The two of us have held onto these gigs by trying every night to play our best. On some nights that's really hard to do, because it seems like no one is listening. But I always remind myself: You never know who's listening. Often at the end of a night when we thought no one was listening, someone will take the trouble to come up to us and tell us how much they enjoyed the music.
---
05/25/2010
The Core

Ray Brown, Paul Chambers, Oscar Pettiford, Bill Henson -- they're with me. I keep them with me all the time. When you hear me play, you're hearing a little bit of all of them and I think that if people began to incorporate that approach into their whole being, it can't be denied. People want to know that bass players have studied or at least know who Ray Brown is or Paul Chambers or John Coltrane or Stan Getz or Joe Henderson. They have to know these people because that's the core, that's their substance of where they're coming from. But, they have to deliver it in a different way, and that requires a lot of attention.
... Those who play this music are intelligent people. They have to be in order to really get into it, because it's a music that feeds your brain. It inspires a lot of things and most of the people who are really incredibly creative, they love literature, they love art, there are inquisitive about other things -- not just in one area. They still may have only one forte, but that doesn't mean that they don't have other interests.
-- Rufus Reid, JazzEd Magazine, May 2010
---
05/15/2010
Before Work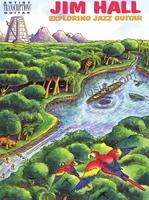 Before work,I try not to hear any music; it can be distracting and confusing. Listening to Pat Martino tapes for an hour may make me love Pat Martino's playing, but it's also liable to discourage Jim Hall the guitar player and he's the one who's getting paid to play today.
Jim Hall, Exploring Jazz Guitar, p. 13
I've followed Jim Hall's advice on this for many years. Of course, when I'm gigging three or four nights a week, that doesn't leave many days for listening to music!
---
05/11/2010
Innovators

Jazz pianist Horace Silver was a big influence on me in my late teens, when I was first discovering jazz. Here's what he had to say about sacrifice:
In the early part of my career as a bandleader, sometime between 1958 and 1960, the quintet and I played opposite Ornette Coleman and Don Cherry at Storyville in Boston for a week. All week long, I was listening and trying to figure out what these guys were doing. Finally, I cornered Ornette and asked him to explain it to me. He gave me a lengthy explanation, which I couldn't seem to understand. I guess I'm just an old-fashioned guy who loves a good melody, some nice harmony, and a beat that swings. Ornette and Don were swingin', but I couldn't figure out their approach to improvising. I was used to following a form, and their music seemed to be formless. There is something about this type of music that I enjoy when I see and hear it performed live, but when I try to listen to it on records, I find that it doesn't hold my attention. Don't ask me why, 'cause I don't know.
I have a great deal of respect for Ornette and Don. They are innovators. I have respect for anyone who is daring enough to come up with a totally different concept and stick to their guns about it even though the concept is not widely accepted by the establishment. We need more artists like these in music, artists who are willing to sacrifice for what they believe in. Lester Young and Thelonious Monk were such musicians.
-- Horace Silver, Let's Get to the Nitty Gritty: The Autobiography of Horace Silver, pp. 97f (emphasis added)
---
05/08/2010
Music Behind the Mask Concert


Last Sunday Mal and I performed in Barbara Hughes's Music Behind the Mask concert in Wolfeboro, NH. This was an interesting experience, both the concert and the rehearsals leading up to it, and when time allows, I will write a lot more about it, but in this journal entry I just want to note a few things. The concept of the concert was to bring people together to make music, from teens to sixty-somethings, amateurs and professionals. An ambitious project, and despite the inevitable complications, it came off surprisingly well. The show was videotaped, so when I get a copy of the video I'll post some clips.
Mal had not sung on stage since singing with me in our rock band, Mousetrap, at the Webster House in Boston in the 1960's. At the Mask concert she sang double-lead and backup on a few songs. She worked hard preparing, was calm and confident onstage, and did a great job. I was quite proud of her!
A note about the sound. Readers of my journal know how fanatical I am about good sound. The sound onstage was a delight! The soundcrew, from Transit Music Group did a great job. I'll write about it in more detail later, but right now I want to make a note that I was able to go direct to the PA through my Behringer DI box, and also go through my Peavey Studio Pro 112. The sound of my guitar was everything I could have hoped for.
Well, there's much more to say about this concert, but today I have two gigs, and right now I've got to warm up a little, and then get ready to head out.
---
04/13/2010
Selfless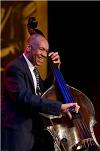 Jazz bassist John Clayton interview in JazzEd: The Jazz Educator's Magazine, March 2010. When asked about the role of the rhythm section, Clayton replied:
Well, first of all, you have to approach supporting others in the rhythm sections in a completely selfless way. In other words: when I'm playing in a rhythm section, I'm only listening to the drummer, and to the piano player, and to the guitar player. As soon as I focus on myself, I'm not happy. I start over-analyzing what I'm doing: "Oh, I'm playing that same old dumb stuff again," or, "Oh, I can't believe I did that," or, "You're rushing again," "You're dragging again," and on and on. As soon as I focus on myself, that's where I go. But if I focus on everybody around me, I'm in heaven. I'm inspired, they keep me on track, and what I'm doing takes care of itself.
The other thing I would say is that as a rhythm section player, we have to understand what our role is for any given piece that we're playing. Maybe it's to really energize the band. Well, if that's the case, then I've got to make sure that I get the job done. Or maybe we're playing a ballad, and it requires that I turn my amplifier off and play a little more gently to help the mood of the piece. So to me, it's about the rhythm section player understanding the role that is required by a given piece of music in a given situation. And in looking for that, I always look for others to help me. Sometimes those that I look to aren't on the bandstand. Sometimes I have to get a recording of someone else doing that song in order to get it. So, that's a biggie: really focusing on others when you play. And that includes focusing visually. I mean, if you're blessed with sight, go ahead and use it. Take the time to look at the drummer's ride cymbal as they play it. Or, if you're in a position to, look at the hands of the piano player. Really connect. When you do that, you begin to communicate in a way that really puts the music on another level.
---
04/10/2010
John Pizzarelli

Last night John Melisi and I, along with our wives, were guests at Jonathan's Restaurant for the John Pizzarelli concert. Before the show began, we found seats at the back of the hall. Just about show time, John Pizzarelli and his band came out of the Green Room through a door near us. Waiting for a moment before going on stage, they sat in the chairs against the back wall, right behind us. John Pizzarelli, always the jokester, came over to me -- just because I was closest to him -- and said, "Here, strap on this guitar and go up there and tell them 'John Pizzarelli couldn't make it.'" John Mellisi pointed to me and said, "You picked the wrong guy. He taught at Berklee for twenty-five years." Pizarelli said, "Oh, yeah! Do you think you could handle this extra string?" I said, "I think I could find something to do with it."
---
04/07/2010
Composing Maple Bacon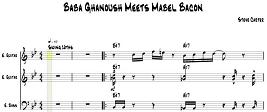 Last week PJ Donahue posted a Facebook message about our upcoming gig at the Lamprey River Tavern, ending his posting with "Mmm...maple bacon." I play Sunday jazz brunch about once a month with PJ at the tavern, and we get breakfast on one of our breaks; PJ loves the tavern's maple bacon. I thought "Maple Bacon" would be a good name for a tune, so I pickup up my guitar and started composing. As soon as I came up with something, I plugged in to the Edirol UA-20 interface that connects my guitar to my computer, fired up n-Track Studio, and recorded what I'd composed, so I wouldn't forget it. When I listened to the playback, I realized that the new tune sounded something like some of my "Baba Ghanosh" tunes, so I decided to name it "Baba Ghanosh Meets Mabel Bacon." Then I opened Notion, notated the guitar part, and added bass and drums. I used Notion to create WAV files for the bass and drum tracks. Then I fired up n-Track Studio again, imported those bass and drum tracks, and recorded the guitar part over them. Here's the tune:
---
03/15/2010
Highs

There's an interesting interview with Tuck Andress on the Jazz Guitar Life web site. Tuck talks about his custom double-coil pickup and his built-in preamp, and how he uses a relatively bright sound, for a jazz guitarist. I found it interesting, because I use a single-coil pickup and an external preamp, an MXR Microamp, and I have an unusually bright sound for a jazz guitar player. Here's an excerpt from the interview:
JGL: Tell me, are you using an acoustic on this CD or is it just a very bright sounding archtop?
TA: Well, the archtop itself is not so bright sounding. It's an old 1953 Gibson L5 with a Bartolini pickup in it which Bill (Bartolini) carefully wound with equally matching coils to reduce noise as much as possible. The pickup itself sounds much more like a single coil pickup, but is one of his brightest humbucking pickups. He and I sat around and did a bunch of R&D and went through about 30 pickups at one point. He loves to do that kind of stuff as a guitar player so he and I sat around on the floor and did tests and so forth. He would talk in terms I wouldn't understand and then lo and behold there would be another pickup with a different sound and we'd go with that.
So, it's that, and a great deal of EQ…oh…and there's a buffer preamp built into the guitar that causes the impedance of the guitar to become very low impedance at the earliest possible point. Most guitars that don't have that lose a lot of their highs by virtue of impedance mismatch whatever you plug them into at the next stage, whether it's a guitar amp or heaven forbid you try and plug the guitar into a studio board or something like that, you lose a lot of highs. With the buffer preamp that doesn't happen.
---
03/08/2010
In Like a Lion



March came in like a lion -- the first weekend of the month I had three gigs and a rehearsal. Friday night I played a solo gig at the Barley Pub in Dover, NH. Saturday afternoon John Melisi and I played a private party in N. Berwick, ME, then our usual Saturday night gig at Jonathan's, and on Sunday I played at a rehearsal for the upcoming "Behind the Mask" gig.
The Friday night gig was especially enjoyable. It was the first solo jazz gig I'd played in this area in a long time. Mal was there, along with our daughter Sheri, her husband, Jason, and many of our friends.
Here are the tunes I played (orginals highlighted):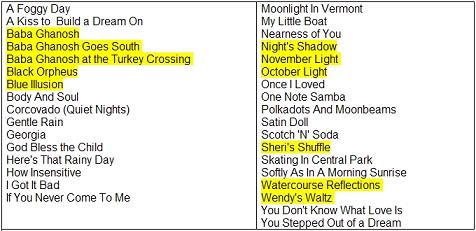 Of course, I didn't play them in that order. I was going to write a Player's Journal entry on the gig, and include some sound clips, but I had just set my digital recorder on the stage, and it picked up so much of the conversation of the customers that I'd be violating their privacy if I posted the recording!
---
02/19/2010
Travelin' Light 2009

In yesterday's mail I got two CDs from Alex Case, his third mix from the Travelin' Light recording session last summer. I'm thrilled with the mixes. Alex really caught our sound with this mix. He had given us CDs of the rough mix on the day of the session. Later, he sent us his remix. John and I felt that in smoothing the rough edges, Alex had gone a bit too far, for our tastes. I sent Alex an email explaining, as best I could, what we liked in the rough mixes, and what we didn't like in the second mix. Alex is a busy guy (as you can see by visiting his web site), so it took him a while to remix. But this new mix is great. Alex not only listens to the music, he listens to what the musicians has to say, which is a rare quality among recording engineers. I love what Alex has done in this mix. I've included a sound clip below, but bear in mind that you're listening to an MP3, which has much less sound quality than the CD.
---
02/13/2010
Valentine's Weekend


Three gigs this Valentine's Day weekend. This afternoon Danny and I play at Philbrick's Fresh Market in Portsmouth. Tonight and tomorrow night John Melisi and I play at Jonathan's in Ogunquit. I wonder if I'll set a personal record for the number of times playing "My Funny Valentine" in one weekend.
---
02/11/2010
Notion Meets Bean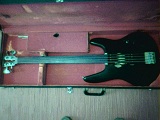 Today we had another recording session at the humble but efficient studio of Frogstory Records, for Barbara Hughes's "Abundance" song. My little home studio is too small for a drum set, and besides, this is just a basic demo of the tune, so Barbara sang to me the drum part she had in mind and I notated it in Notion. I added a repeat sign with multiple repeats to create a loop, and then exported a wav file. I closed Notion and opened in n-Track Studio the "Abundance" tracks we'd recorded last week, along with the bass and guitar tracks I'd added last night (see previous journal entry) and imported the wav file. It took some tweaking to line up the drum track with the previously recorded tracks, but after a while I got it close enough. The drum part works well with the bass track I recorded last night using my Travis Bean fretless. Barbara may eventually want to record the bass track herself, having something different in mind, but I liked the bass and drums we put together today. Barbara brought her djembe so I put my trusty Shure SM58 on it and recorded Barbara' dmembe track. I boosted the low EQ on it, tweaked the mix a bit, and now it sounds better.
---
02/10/2010
Bean Out of the Closet

Last week we laid down some background tracks for Barbara Hughes's song "Abundance," which we'll be performing at her "Behind the Mask" show in May. The goal was just to make CDs that everyone in the band could use for working out their parts. In my home studio, we recorded a keyboard track, using a marimba sound, and rhythm guitar, scratch vocals and a scratch sax track. Later I added a guitar track, playing fills around the vocal, trying for something that blended with the marimba "island" feel. We have some more tracks to lay down this week, so I thought it might help if I laid down a bass track. I dug my Travis Bean fretless out of the closet -- where it had sat untouched for years. I really like the bass track I came up with; I think it works well with the keys and guitars.
---
01/28/2010
Preparation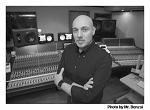 I just read an interview with recording engineer Joe Chiccarelli. When asked about being ready when your big break comes, he replied, in part:
In terms of preparation, I'm not so sure that I did anything specific, but the one thing I tell people who want to become an engineer or producer is, "learn everything." Not just engineering and music, but also learn about art, poetry, literature, psychology. The job really involves a lot of things, and it changes from project to project.
Discmakers interview with Joe Chiccarelli
I think this is good advice for all musicians.
---
01/26/2010
The Education of an Amphibian

When the conscious will is used to inhibit indulgence in the bad habits which have come to seem natural, when the ego has been taught to refrain from "straining every nerve," from desperately trying to "do something," when the personal subconscious has been induced to release its clutching tensions, the vegetative soul, and the intelligences which lie beyond the vegetative soul can be relied upon to perform miracles. ...our business as educators is to discover how human beings can make the best of both worlds--the world of self-conscious, verbalized intelligence and the world of the unconscious intelligences immanent in the mind-body, and always ready, if we give them half a chance, to do what, for the unaided ego, is the impossible.
Huxley, Aldous "The Education of an Amphibian"
---
01/22/2010
Remembers

Straddliing his knee, my back and head leaning on his resonant chest, I felt his calm and welll-modulated voice recount for me the wonders of the St. Louis 1904 World's Fair. The big fair convinced Daddy Long for all time that humankind's greatest achievements were the result of its "book learning," and he said I shoud get all i could of it.
"Boy, that's the onliest thing white folks can't take away from you. Can't nobody take nothin from outta your head."
....Memory, so prized by the unlettered, was the mark of gumption and aptness with Daddy Long's crowd. And while he was a stickler for book learning, he thought every man ought to have good "remembers."
..."Hook your pointing finger right her onto miine, " he said. "Now hold on tight. You see," he said, as he tugged on our hook, "we got us a connekshun now; we bound up together. A man can keep his good remembers if he conneks one thing with another in his head. I like to make pretty poems and sayings to connek up particulars for my remembers."
Ruff, Willie. A Call to Assembly
---
01/21/2010
Corresponcence Lesson

I just finished a correspondence lesson for Pedro in Portugal. It was a lot of work, and took more time than it should have, but I had fun doing it, and I think I provided a good lesson. The lesson deals with applying triads for chord-melody and soloing on "Stella By Starlight."
I used Notion, n-Track Studio, and a few other software tools.
I created notation files using Notion. The jazz font, new in Notion 3, looks good for the jazz materials I write. I used a third-party tool to capture a portion of the Notion screen and embed it into lesson file written in HTML: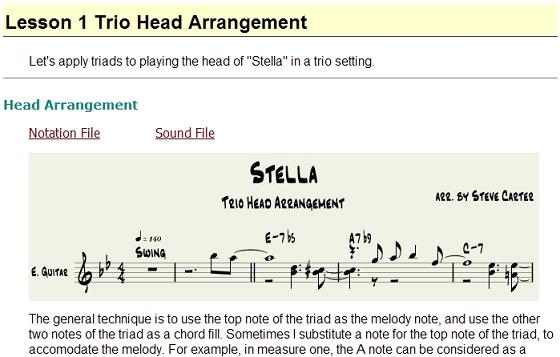 The HTML lesson has a Notation File link that opens a PDF of the Notion notation. I created the PDF from within Notion by printing to the freeware CutePDFWriter. The HTML lesson also has a link to a sound file. For simple exercises, such as arpeggio studies, I created a wav file from Notion, including a simple bass part, a drum part consisting of just hi-hat on 2 an 4 for time-keeping, and the guitar part. Example:
The Notion guitar sound output is, to put it politely, not very guitar-like, so for sound files demonstrating more complex exercises, I record the guitar part myself. I output just bass and drums from Notion to a wav file. Then I imported that wav file into n-Track Studio, and overdubbed the guitar part myself. I used an Edirol UA-20 USB interface to feed the guitar into the computer.
---
01/08/2010
Press On

Nothing in the world can take the place of persistence. Talent will not; nothing is more common than unsuccessful men with talent. Genius will not; unrewarded genius is almost a proverb. Education will not; the world is full of educated derelicts. Persistence and determination are omnipotent. The slogan press on has solved and always will solve the problems of the human race.
- Samuel Taylor Coleridge
January is always a slow time for gigs, so it's a time when I go looking for gigs. Sometimes I'm lucky, and gigs come to me.
Last week I was in the Barley Pub, celebrating the holidays with my wife, our two daughters Wendy and Sheri, and Sheri's husband, Jason. The subject of gigs came up, and suddenly Jason said, "Oh, yes! Do I have good news for you, Steve Carter!" He explained that the Pub was now having solo acts on Friday nights and Rob, the bartender and booking agent, had mentioned to Sheri and Jason that he was interested in having me do a couple of gigs. Russel Graham, a guitar-player and a friend of ours, was tending bar that night, so I asked him when I might find Rob in the Pub. He told me Rob's schedule, and he added, "You need to get the Steve Carter Trio in here again, too." A few days later I dropped into the Pub and talked with Rob, and set up a solo gig for a Friday night in March. Russel's comment about the trio had gotten me thinking. I've played the Pub a few times over the years, a couple of times with a trio, once with a quartet. Rob had mentioned from time to time that he'd like to get me back in there with a group, but I'd been undecided. I checked my gig records and saw that I had played the Pub two years in a row on the Sunday before Labor Day, and drawn a good crowd. Reflecting on Russel's comment, I decided to go for it. Last night was Bluegrass night at the Pub, hosted by a bass player I often work with, Steve Roy. It's a popular night at the Pub, so I thought maybe Jim Rudolf, the drummer I've worked with at the Pub might be there. I went down to the Pub, and, sure enough, Jim was there, as was Steve; I asked them if they'd like to do that Sunday in September with me, and they were both up for it. I sent an email to Rob today asking for the date. Probably the furthest ahead that he's ever booked the Pub.
I hadn't seen Jim in a while, so we had a nice chat. When asked how things were going, I ran down the sad tale of disappearing gigs (see the previous journal entry). We talked about the impact of the economic climate on the gig scene, and I said that in spite of that, I'm out beating the bushes looking for gigs. Jim said, "And you'll probably be the one who's successful at it, because you're persistent."
I press on.
---
01/06/2010
New Decade





As the new year -- in fact a new decade -- begins, some gigs have come to an end, some continue. The Powow River Grille, where I had played regularly for a few years, closed on New Year's Eve. The sister restaurant, the Plum Island Grille, continues; I subbed one Sunday there for Danny Harrington and I'll probably play there a few times this year. Danny and I also played a few times at Philbrick's Fresh Market, and we will play there on a few Saturday afternoons this year, possibly starting in January. I played Bonta many times last year with both Danny and John Melisi. Danny and I had every Sunday afternoon for a while, but that ended in the fall, when football season started. The owners thought people would stay home and watch football, but Bonta is a very high-end restaurant, and I don't think their customers were the beer-and-pretzels-and-game type. Anyway, Friday night jazz continues at Bonta. It's Danny's gig, and sometimes he hires me to sub for his keyboard player, sometimes John and I cover the gig. It's a beautiful restaurant, with an appreciative crowd, so I look forward to doing more gigs there this year.
Our steady gigs at Jonathan's continue. John and I had been doing Fridays and Saturdays, but that got cut back to Saturdays. Recently we added Sunday Brunch, which we hope will continue through the spring.
The economy has certainly cut into gigs. John and Danny are always scouting out new venues, and I'm going to scout around the Seacoast area for potential solo gigs. Last year my goal was 200 gigs; I played 169. This year I'm setting my goal again at 200 gigs. Wish me luck!
---
01/02/2010
Mask Track

Last week I went into the new studio at the Folk Cellar in Wolfeboro, NH, to add a track to Barbara Hughes's song, "The Mask." The lyrics were written by the kids in her Teen Power of Music Program program. We expect the single to be released this month.
---