Player's Journal
2015 2014 2013 2012 2011 2010 2009 2008 2007 2006 2005 2004 2003 2002
---
12/29/20139
Fragments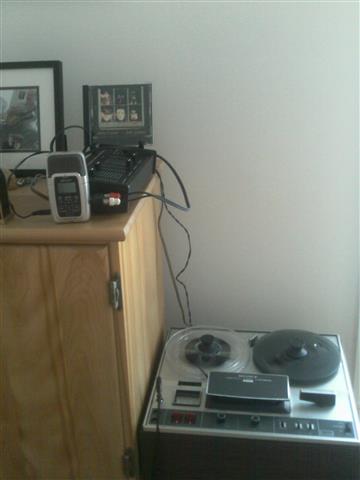 I've been converting my old reel-to-reel tapes to MP3. I found one tape from a concert I did in the Berklee Recital Hall some time in the 1970s. It was a quartet concert with Larry Baione, but to open the second set I played a solo piece I had just written, called "Fragments."
Here's a link to the score Fragments score
And here's a link to an MP3 made from that old tape Fragments performance
---
11/4/2013
Working in the Light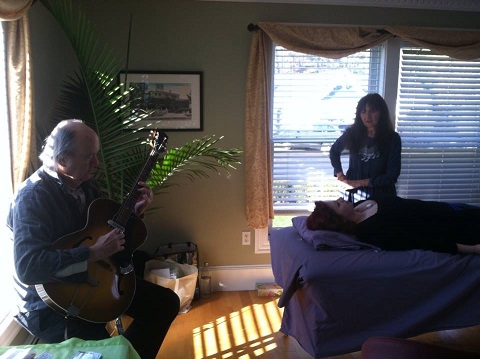 We participated in the Wellness Weekend at Victoria Inn in Hampton, NH, this past weekend. I played acoustic guitar while Mal gave Reiki sessions. Very relaxing for everyone involved.
---
10/28/2013
That Old Guild
For the Authors Night at the Fogg Library in Eliot, Maine, I was asked to play acoustic, so I dug out the old Guild.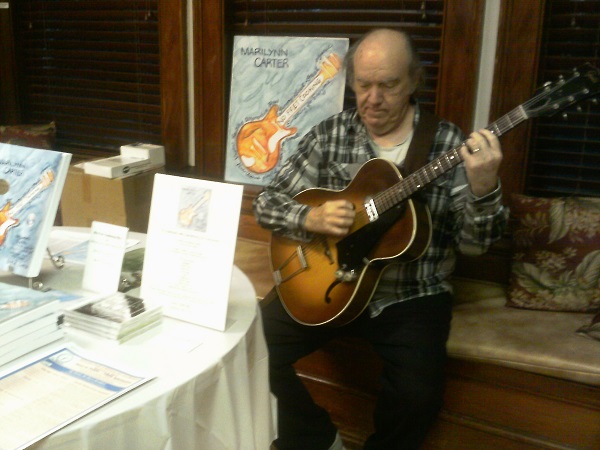 ---
10/28/2013
Appreciation
I recently did a volunteer gig for senior citizens, and the sponsoring organization, Homemakers, sent me a nice thank-you note.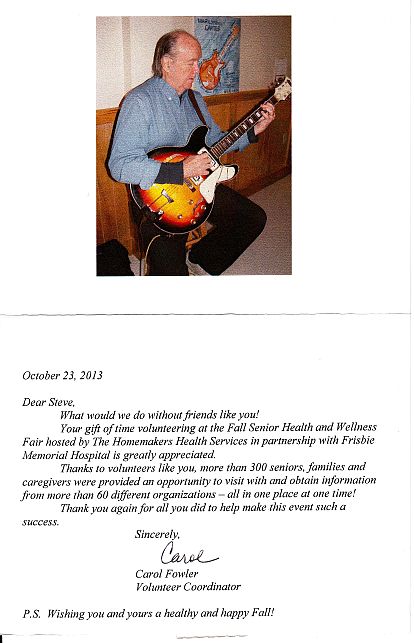 ---
10/20/2013
Music and Books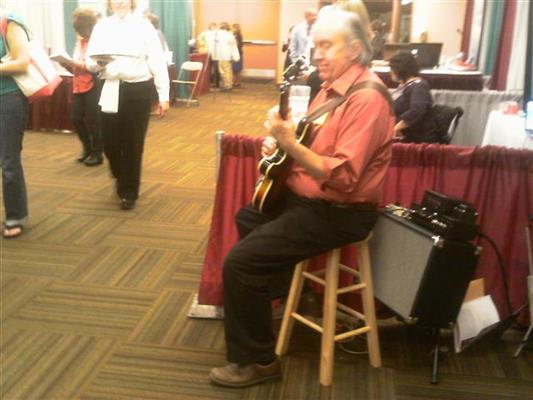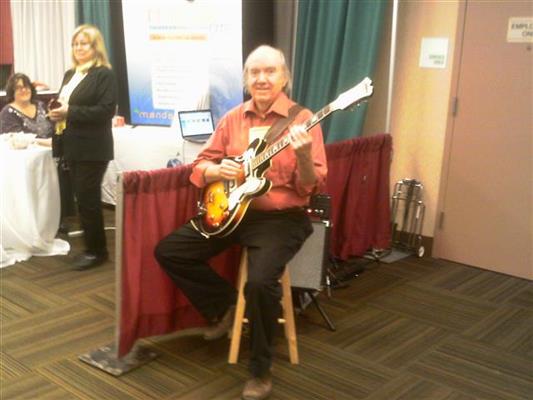 I played at the reception in the Exhibit Hall for the New England Librarians Association in Portland, ME. Music and books -- my kind of gig!
---
09/07/2013
Just For Luck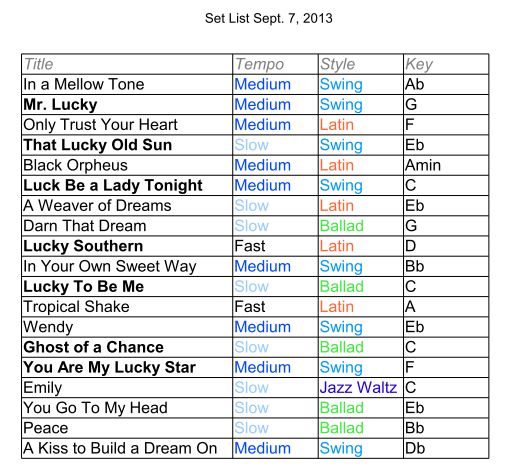 Tonight I'll be playing a duo with bassist John Hunter at a private party I've played for many years. Each year the party has a theme, and, this being 2013, and 13 being considered an unlucky number by some and a lucky number by others, the theme is luck. I made up a set list, and made sure I included many tunes with the theme of luck. As I often do with tune lists, I used color to allow me to rearrange the order of tunes to help me order the tunes.
John and I have played together many times, and could certainly play the gig without a set list, but I figured I'd make one just for luck.
---
05/18/2013
Poetry Publications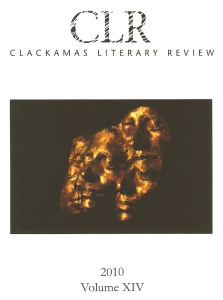 I was honored to have two of my poems published in the most recent issue of the Clackamas Literary Journal, which just came out. Oddly enough, the most recent issue is the 2010 issue. In 2012 the editor wrote to all the contributors apologizing for the delay, saying that proofs were ready to send to the printer, and adding, "Though small compensation for such a long wait, I would like to offer you each five free copies of the 2010 issue, in addition to the two contributor copies we normally provide."
Last week seven copies arrived in the mail. The issue includes an Editor in Chief's Note (see image).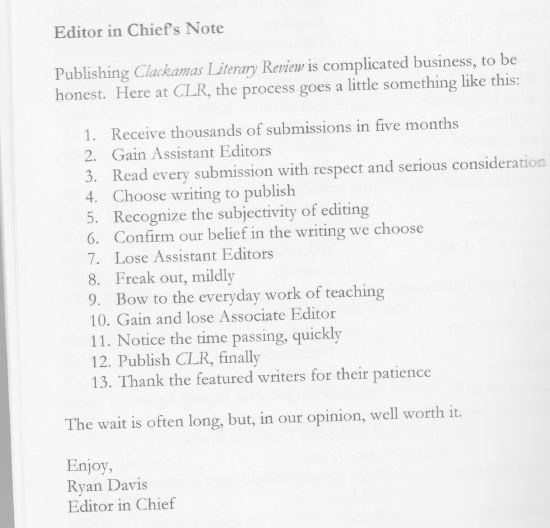 When I was a senior at UMass/Boston, I edited the student poetry magazine, so I can relate to the trials and tribulations.
---
03/09/2013
NE Book Festival Awards Ceremony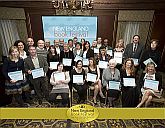 Our cookbook, No Fret Cooking, which includes my two CDs, "Music to Cook By" and "Music to Dine By," recently won Honorable Mention at the New England Book Festival, and a cocktail party was given honoring all authors in the 2012 competition. The awards ceremony was held on Sat., Jan 19th at the Omni Parker House in Boston, MA where authors from all over the country gathered at the historic hotel that has been well known as a gathering place for famous authors. It was great to meet so many interesting authors. The pictures from the event just arrived and we wanted to share a few with you. Quite the honor for us to receive an award where so many of the greats were often seen.
---
02/01/2013
Notes on Practicing
I've often heard it said that people don't read on the web. I've written a lot in these Player's Journal pages, and, of course, I'd like people to read it.
I made a video of myself reading through some of my Player's Journals entries on the topic of practicing. My hope is that some people who might be put off by the thought of reading a lot of text might be drawn in to my journals. I was motivated by something Aldous Huxley wrote in an essay from 1956 entitled "Censorship and Spoken Literature":
In this universally educated population vast numbers never read, or read only the most rudimentary kinds of sub-literature and Neanderthal journalism. Many of these illiterates are the victims of a theory of education, which has carried a praiseworthy concern with synthesis and wholeness to the grotesque point, where it is regarded as improper to teach a child how to analyze a word into its constituent letters. The result, as Mr. Rudolf Flesch has pointed out in his lively book Why Johnny Can't Read, is that thousands upon thousands of boys and girls spend ten years at school without fully mastering an art which, under the old analytical methods of teaching, was in most cases perfectly well understood by the age of five or six. To the hosts of non-readers and poor readers must be added all the radio and television addicts who have never acquired the habit of reading and whose reaction to a book in a hard cover is one of mistrust and a kind of fear. Seeing it, they know, without further investigation, that it is not for them -- that if they tried to read it, they would understand nothing and be bored to death. But it can be shown experimentally that, if you can get these non-readers, poor readers or reluctant readers to listen to someone else reading aloud from a book which they themselves would never dream of opening, many of them will not only understand what is being read, but will become passionately interested in it.
Tomorrow and Tomorrow and Tomorrow, pp. 123f
---
Pro Shop Grand Opening
01/14/2013
I opened the Pro Shop at Frogstory Records. Lesson 1 is now available. Here's a video about Lesson 1.
Visit the Pro Shop. You can always get to the Pro Shop from the Guitar Lessons page on this site.
---
Organizing a Recording Project
01/02/2013
I made a video and posted it on YouTube, about the CD's for No Fret Cooking. From conception, through composing, arranging, recording, mixing, mastering, publication. Enjoy!
---
A Jazz Musicianís Wisdom on Listening
01/01/2013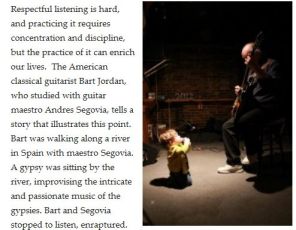 I wrote a guest article on the topic of listening for my friends blog, which deals with communications issues in healthcare. Mal suggested that I revise it and expand it focusing just on musicians, so I'll do that. Meanwhile, my readers may enjoy reading "A Jazz Musicianís Wisdom on Listening: Lessons for Us in Healthcare."
---