PJ Donahue Trio at Lamprey River Tavern
Jazz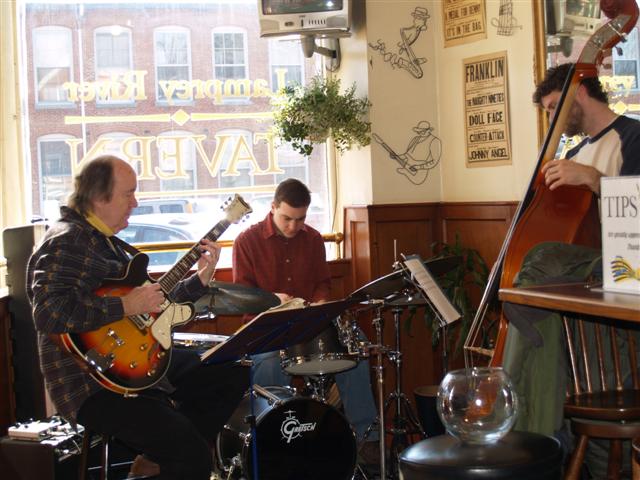 PJ Donahue Trio at Lamprey River Tavern
Jazz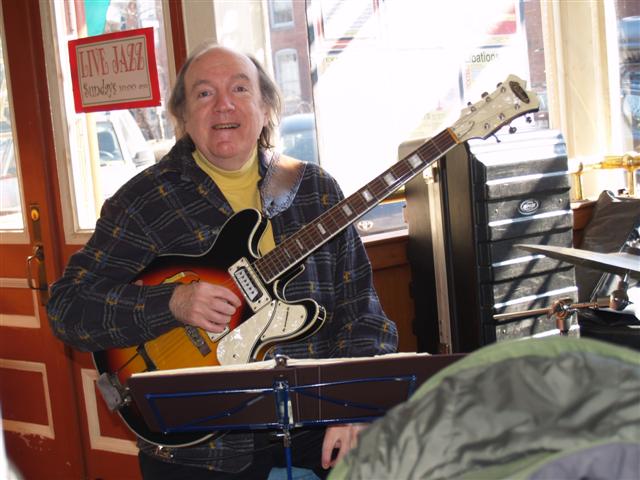 PJ Donahue Trio at Lamprey River Tavern
Jazz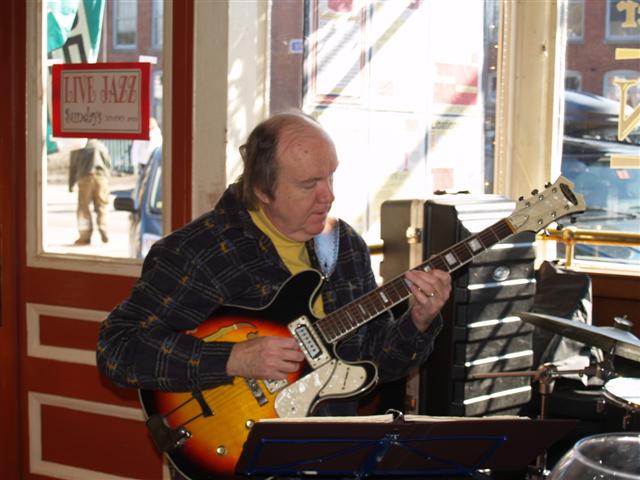 (Most of my gig journals are about one particular night, but since this one is about an ongoing gig, I'll be revising it over time, and including new sound clips, so check this page frequently for updates. -- Most recent update: Nov 25, 2008)
I've been playing Sunday brunch with the PJ Donahue Trio at the Lamprey River Tavern about once a month for a couple of years. PJ Donahue on drums and Steve Roy on upright bass. Both very talented and sensitive players. The Lamprey is a neighborhood tavern with a bounteous but inexpensive brunch. It's usually packed on Sunday mornings, with families at the tables and the regulars at the bar.
My wife, Mal, usually sits at the table right in front of the band. We put the little H2 digital recorder on that table, and Mal is the recording engineer for the brunch. As you'll hear from the sound clips, little H2 picks up the converstation at the table, the babies crying at the other tables, and a little bit of the band.
The Room
We set up in one alcove, near the windows, on the bar side of the room. My amp is directly behind be, aimed in toward the band so they can hear me; the sound bounces off the wall and the bar and covers nicely. The ceiling is not too low, and the floor is linoleum, so the room is pretty live. We have to play pretty quietly, so PJ uses brushes much of the time. Steve uses a small amp, but his sound is mostly acoustic. It's very difficult to swing at this low volume, but these guys do an admirable job.
---
November 2, 2008
We usually open with Duke Ellington's "In a Mellow Tone." We start the gig at 9:30 in the morning, so it's pretty tough to swing and get into a groove so early in the morning, but these guys always manage.
In a Mellow Tone
We usually keep the Duke theme going by playing "Satin Doll" as the second tune.
Satin Doll
As the morning moves on, and Dana, the waiter, refills our coffee mugs, we pick up the tempo a bit. Here's a snippet from Duke Ellington's "C Jam Blues."
C Jam Blues
On this gig we got a couple of requests. One was for "Girl from Ipanama."
Girl from Ipaname
Another request was for Duke Ellington's "Take the A Train."
Take the 'A' Train
---