Player's Journal
You might also enjoy my Writer's Journal
2015 2014 2013 2012 2011 2010 2009 2008 2007 2006 2005 2004 2003 2002
Music Educators Talk Shop
11/23/2015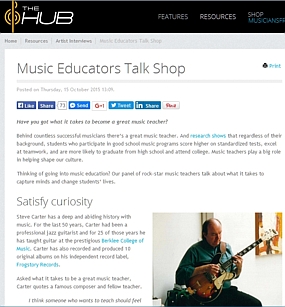 Recently I was interviewed for The Hub, which is sponsored by Musician's Friend. Click here to read the interview.
---
08/13/2015
Memories Of Tomorrow Revisited
I always learn something when I listen to Ed Saindon. I like the way he develops this tune. The first statement of the tune is subtle, working just a bit around the melody. Solo chorus grows organically out of the head. The figure he plays on the Bb7sus chord in the solo chorus strikes me as an excellent example of "hot, then sweet" -- an approach that many great improvisers use. The out chorus incorporates much of the richness of the solo improv, while still respecting the melody, and then he brings the listener into a soft landing. Well done!
---
06/13/2015
I Remember Clifford
I was re-visiting some of my recordings, and I decided to listen to "I Remember Clifford" from my Act One CD. This is Benny Golson's tune, written when Clifford Brown died. This take was recorded live at a private party, back in 1997. I haven't played the tune much since then, and don't remember my arrangement, so I'll have to listen to this recording and re-learn my arrangement. Worth doing, because I love this song.
---
05/04/2015
Driving the Band

At the NH Writers Project Writers Night Out tonight I chatted with a guy who teaches at NH Institute of Art, and is just getting into writing. He said when he was younger he played drums, never really learned to play drum set, never in a rock band, because he always played in marching band. But he felt that it would have been great to play in a rock band, to push the band. I told him about my experience, as a young man, hearing Dee Barton, the drummer with the Stan Kenton orchestra. Of course. this guy had never heard of Stan Kenton, but I tried to communicate some of the excitement I experienced at the time, excitement that has lingered through my life. I heard the Kenton band when I was 18, the first big band I ever heard. Dee Barton was behind the drum set, and he was behind the band in another sense -- he had written many of the arrangements. Kenton's Band was very popular in the 60's. Barton had played sax in the band, and had recently switched to drums. I was amazed by the power of the music, and Barton's role at the center. I had gone to the show with the guys in the band I was playing with, the Blues Children, and on the break we talked with Dee. He was charming and down-to-earth. Mercon, the elder statesman of the Blues Children, asked Barton why he had switched from the sax section to the drum chair. Dee Barton said, "When you play drums, you get to drive the band. Driving this band is like driving a 10-wheeler -- but a 10-wheeler that handles like a Ferrari."
---
04/09/2015
Preparing For The Gig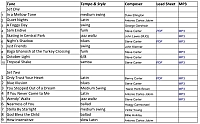 I've made up a set list for my gig next week at Hermano's. I'll by playing with drummer Mike Walsh. Since I've played with Mike only once before, he asked me to let him know what tunes we'd be playing, so I made up the PDF of the set list and sent it to him. I included lead sheets and sound files, where I could, of my original tunes and some of the more obscure standards.
If you open the PDF and click on the PDF and MP3 links, you can see the lead sheets and hear the sound files of some of the tunes we'll be playing. The sound files are from my CDs, and from previous live gig recordings.
Now that my wife and I have published a cookbook, we often watch cooking shows on TV. Chefs use the term mise en place -- literally "put in place" -- for the preparation of equipment and ingredients before cooking. Preparing a set list is part of mise en place for a gig.
---
02/11/2015
Ear On the Bass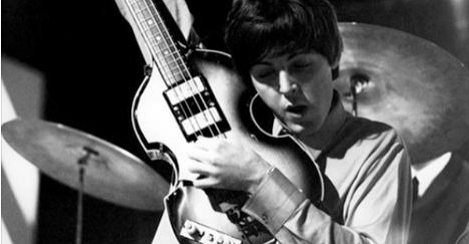 I always tune my guitars and basses by placing my ear against the instrument. I had to smile when I saw this picture of McCartney. No electronic tuners in those days. The image was on Facebook and was linked to an audio track, McCartney's bass track on "Something." He was a very creative and lyrical bass player!
---
02/02/2015
A Guitarist Worth Listening To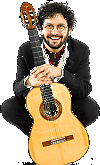 I met Aaron Larget Caplan at a gig I did at UMass/Boston. Great player and great teacher. Check him out! Click the image above to visit his website.
---
01/18/2015
Arpeggios or Modes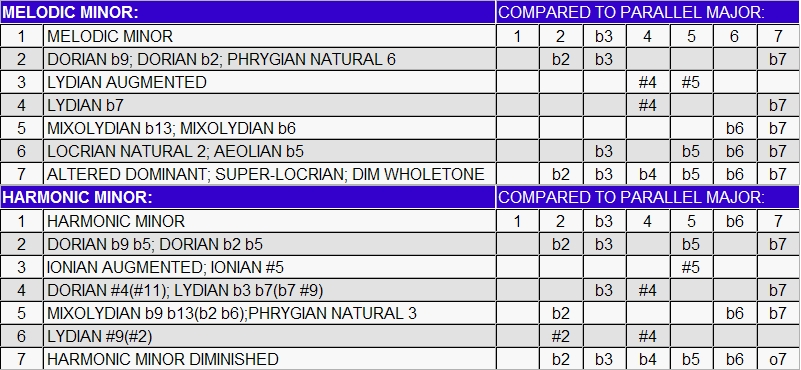 Students often ask: For improvisation, should I be thinking about arpeggios or modes. The answer is that your should think about both, because they are really the same thing.
A scale (with some exceptions) consists of seven notes. An arpeggio -- from the root up to the thirteenth, is seven notes.
An arpeggio can be viewed as a scale in thirds: 1-3-5-7-9-11-13 = 1-3-5-7-2-4-6.
A scale can be viewed as an arpeggio re-arranged stepwise (that is, into seconds): 1-2-3-4-5-6-7 = 1-9-3-11-5-13-7.
The chord symbol usually tells us four notes of the scale: FMaj7 = F A C E. Other chord symbols specify more notes. A dom7sus4 chord tells us five notes: 1-3-5-7-11. G13 tells us 5 notes. G7b9b13 tells us 6 notes.
Assuming a four-note chord symbol (e.g., Bb7), the question is: what kind of 9, 11, and 13? The 9 can be flat, natural, or sharp. The 11 can be natural or sharp. The 13 can be natural or flat.
Determine the kind of 9, 11, and 13 from the preceding scale.
For example, suppose we have an Bb7 chord in the key of C. We know four notes: Bb, D, F, Ab; that is, 1, 3, 5, b7. So what kind of 9, 11 and 13? We look at the preceding scale, C major, and that gives is C, E, G, which is natural 9, sharp eleven, natural 13. So our arpeggio is Bb-D-F-Ab-C-E-G. Rearranging this stepwise gives us Bb C D E F G Ab Bb. That's a B-flat Lydian-flat-seven scale. It's a mode the F Real Melodic Minor scale. So another way of looking at this is that the Bb7 chord in the key of C takes the Real Melodic Minor scale from the chord's fifth.
One advantage of the chord-scale approach, especially for guitarists, is that if you know a fingering for an F Real Melodic Minor scale, then you already know a fingering for Bb Lydian-flat-seven.
---
01/16/2015
Setting THoTH Free

I've just released version 2.5 of my THoTH software as a free download. This is a fully functional version. In the past I had a freeware version and a paid version, but maintaining both was taking too much time. So I have decided to release the fully functional version at no cost. To download it, go to my THoTH page and click on "THoTH version 2.5". If you have questions or comments, email me -- my email address is at the top of this page.
---
01/15/2015
Yonders Wall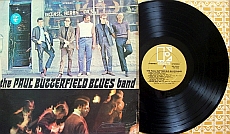 >

While listening to Paul Butterfield's "Got My Mojo Working," I took a moment to check my email, saw that Ken Cooke (a solo guitarist in Australia who is a big fan of mine -- and much appreciated), had "favorited" my Facebook posting announcing a gig with Danny Harrington at Philbrick's Fresh Market in Portsmouth, NH. It's pretty amazing that a guitarist at the other side of the planet cares enough about my guitar playing to take a moment out of his life to take note of a gig in a grocery store. Earlier today I'd looked at my calendar and seen that I'd planned to change string on my Aria guitar. I put that task off, thinking, "I'm so discouraged. Why bother?" (I always get discouraged in January, looking back and looking forward.) But Ken reminded me that there are people who enjoy my music -- literally all over the world -- few though they may be -- and there's a reason why I should bother. I owe it to them to keep playing the best I can. As I write this, in a bar in Dover, NH, I have earbuds in, listening to the Paul Butterfield Blues Band, a album from 1965, and it reminds me that this music I'm listening to is part of me. I absorbed it decades ago and it is part of the music I play now, the music that people who listen to me want to hear. I had the great good fortune to meet Paul Butterfield, Mike Bloomfield, and the rest of their band. Back in 1965 we played the Unicorn Coffeehouse in Boston the week before (or maybe it was after) they did. We were at their gig there. I have a bootleg recording of the Butterfield gig, and it reminds me of those ineffable times. It's my obligation to pass on, through my music, what I leared from those guys -- and so many others. But the danger, at my age, is living in the past, and I've always wanted to avoid that. The Butterfield tune I'm listening to now is "Look Over Yonder's Wall." I'll do that.
---
01/10/2015
Island Gig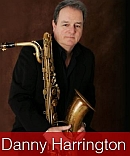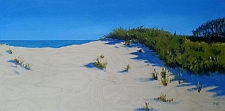 Very enjoyable gig the other night with Danny Harrington? at the Plum Island Grille? in Newbury, MA. Great to see owner Francis Broadbery again. I really appreciate the way he treats us with such warmth, respect, and hospitality. Though I've played solo at the Grille before, this was the first time Danny and I had played there together. We were in "the deck," which was winterized a few years ago, set up in the corner, near the gas fireplace. The sound of the bari was enhanced by all wood around us. Danny was in rare form. I, on the other hand, had not had much time to practice over the holidays, and was pretty rough. I messed up a lot of endings, and Danny busted my chops -- good-naturedly of course -- and I deserved it! I had the pleasure of meeting Alan Bull, a local artist. His painings are currently on display there. Beautiful paintings of the beach. As he sat at the bar, he sketched me and Danny playing, white pencil on black paper, just highlights and shapes. Masterful! If you enjoy art, visit his site at www.alanbull.com. When I win a Grammy award and start raking in the dough, I'm going to buy a beach house and fill it with his paintings!
---
01/01/2015
Sound Activities

I was pleased to be featured in the sound's "Future Sounds" column about NH seacoast music activities for 2015.
The Dover-based guitarist is producing his 11th album, "The Many Paths of Baba Ghanosh," in 2015. The album features Carter's original compositions, all inspired, in a round-about way, by the Middle-Eastern dip. "I noticed that the name … had an interesting rhythm: four sixteenth notes with an accent on the last," Carter says. The word and its rhythm made Carter think of a soul band — and that "baba" is a term of endearment for an Indian holy man. He created a musical character, "a cross between Otis Redding and the Maharishi," who became the subject of about a dozen instrumental pieces over the years that follow Baba's adventures. Carter says the album is slated for release sometime in late spring.