Gig Journal
Lamprey River Tavern, Newmarket, NH. March 4, 2007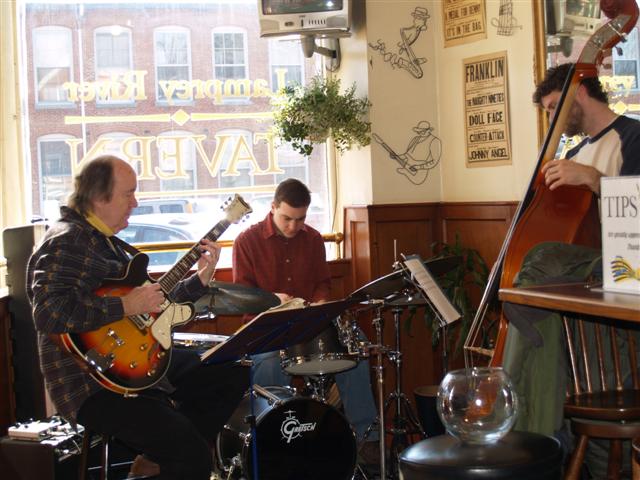 (Click image to enlarge)
PJ Donahue - drums
Steve Roy - bass
This was my second time playing with PJ Donahue and Steve Roy at the Lamprey River Tavern. It's PJ's gig, and he rotates various players. I was delighted to be asked to do the gig last month, and further delighted to be asked back. It's a Sunday brunch, the only regular live music they have at the tavern. The audience is mostly local folks, and they really appreciate the music.
I've heard PJ many times in Dover, so I knew his playing. The previous gig had been the first time I'd played with these two guys; we all settled in right away. These guys have solid time, good ears, they listen hard, and they can swing. It's a nice gig.
We had some fun...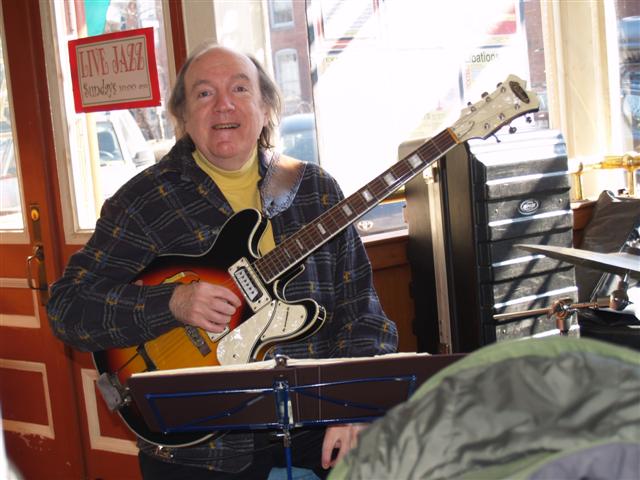 (Click image to enlarge)
and we played some serious jazz...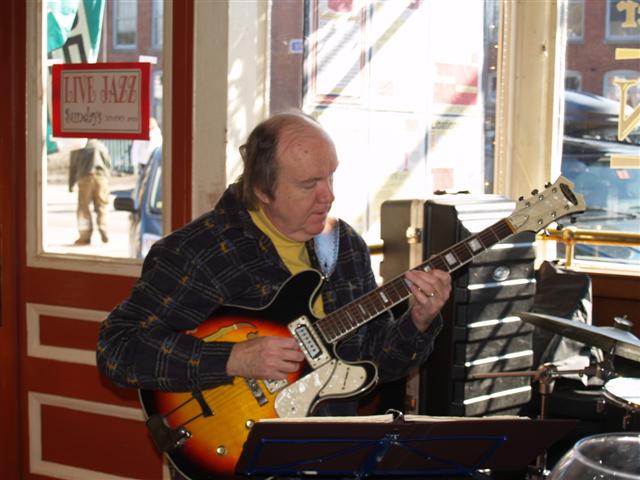 (Click image to enlarge)
As you can see from the photos, we're in pretty close quarters. Last time I'd done the gig, I used the Ampeg, but this time I decided on the smaller Peavy. The Peavy sounded great.
We opened with "Softly, as in a Morning Sunrise." I gave Steve my lead sheet for the tune, in D minor (it's usually done in C minor). This was a good opener. The groove was laid-back-Sunday-morning (a groove that turned out to be the recurring groove for the gig). It was a tune Steve hadn't played much before, and when we finished, he commented on how much he liked the changes on the bridge. I use Fmaj7 F#dim Gmin7 G#dim A7. I mentioned that a lot of jazz players hate diminished chords and always reharmonize them, but I like the ascending bass line. Steve liked it as well. Also, I do it in D minor so the first note of the bridge gives that low F note, a great spot to build up out of, and I think Steve appreciated that.
The first set included tunes like "Yesterdays," "Wave," and "What Is This Thing Called Love," but I also called lesser-known tunes like Jobim's "If You Never Come to Me"; that works out great for guitar and bass because of the ascending melody against the descending bass line. Steve and PJ both seemed to enjoy that one. We also did "Forest Flower," which they were not so familiar with; it came out very well. A guy requested "C Jam Blues" and we did that -- it came out very well. In fact, throughout the rest of the gig, I used that five-to-one motif in almost every tune, just for fun.
In the second set we did things I'm familiar with, like "There Will Never Be Another You." The guy who'd requested "C Jam Blues" then requested "Take Five" -- a tune which I often get requests for. A few months ago I'd worked up a solo arrangement of it, but I realized I'd forgotten it. I didn't have my Real Book with me (just my trio guitar book and trio bass book, and it's not in there -- yet), so we had to beg out of that one. Two weeks from now I'm back on that gig, so I'll brush up on the tune, in case that guy is there. I'll have to remember to email Steve and ask him to look the tune over.
One of the high points of the gig was "A Child Is Born." As it turned out, the tone and sustain on my guitar was just right for the light approach we took to the tune, and it really sang. I was also pretty pleased with the tone on "It Could Happen To You." Usually I harmonize melodies on the guitar, but that melody is so rich, I try to play it just as a single-note line. Steve and PJ caught on to the idea I was after -- a sort of tenor sax sound -- and provided excellent support for the melody. I wasn't completely happy with my solo on that tune; it's hard to improvise something that sounds as good as that gorgeous melody.
We ended with a blues, my "Blue Illusion." Steve took an excellent solo, I traded fours with PJ, and then Steve signaled me that he'd trade fours with PJ. Steve played a beautiful line; PJ got into it and they traded some hot fours; at one point PJ played a tricky rhythm, something with an unexpected rest, Steve caught it (many players would have messed up the time), PJ smiled, yelled "Bingo" or some such, meaning "You caught it!" Then we all came in strong for the out chorus. I accidentally pushed my volume a little higher than I'd intended, but it pushed the pre-amp and the Peavy just enough to give a nice edge, appropriate for blues. On the last chorus, I called out "End short!" and they guys caught it, creating a tight ending. Great fun.