Steve Carter solo guitar at the Barley Pub
Jazz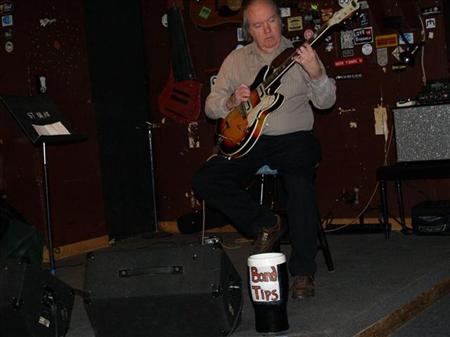 Steve Carter solo guitar at the Barley Pub
Jazz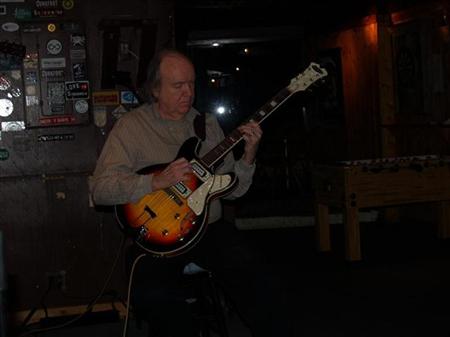 Steve Carter solo guitar at the Barley Pub
Jazz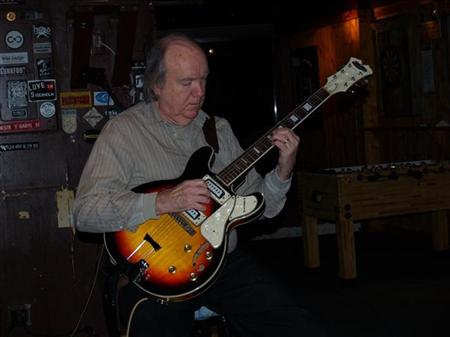 Steve Carter solo guitar at the Barley Pub
Jazz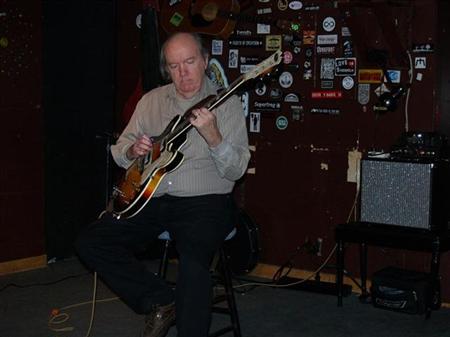 Steve Carter solo guitar at the Barley Pub
Jazz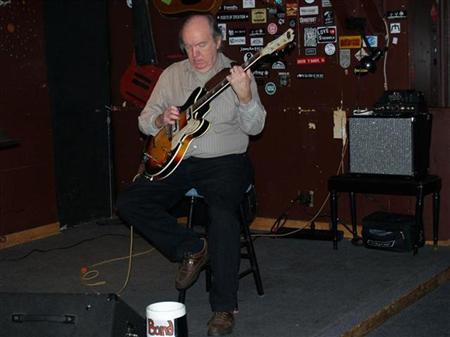 Many of my gig journals are about one particular night, but since this one is about an ongoing gig, I'll be revising it over time, and including new sound clips, so check this page frequently for updates. -- Most recent update: February 4, 2012
The Room
The Barley Pub is a long, somewhat narrow room, with the bar and the stage both along the left wall. The ceiling is low. The owner recently installed some sound absorption panels on the ceiling, which improve the sound. It's a large room, and though my Traynor amp sounded good, it didn't really carry throughout the room. Starting with the second week of the gig, I used my Behringer DI100 direct box to split the signal, going to my amp and the house PA. That way I was able to get a full sound at low volume, and deliver the sound to the whole room. As an added bonus, I was able to hear my guitar from my amp behind me and from the floor monitors in front of me. Surrounded by sound -- that's the way I like it.
---
January 11, 2012
Baba Ghanosh at the Turkey Crossing
This was the first week of a six-week stretch of solo gigs at the Pub. During my second set, my daughter Sheri, her husband Jason, and my 1-year-old grandson Justin came in to have a beer and catch some tunes. Well, Sheri and Jason to have a beer, and Justin to catch some tunes. I opened the set with one of my original funk tunes, "Baba Ghanosh at the Turkey Crossing." I must admit that my execution of the tune was far from flawless, because I was fascinated with watching Justin's reaction to it. On the recording, you can hear him singing along.
You Don't Know What Love Is
Justin was getting a bit wound up, so I played some mellow tunes: "Moonlight in Vermont," "The Girl from Ipanema," and "You Don't Know What Love Is." In the photo below, you can see Justin sitting in his chair, having a snack, and, I believe, conducting the music with his right hand. If you look very closely, you can see me way in the background.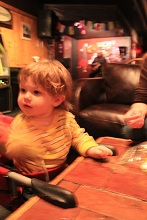 Blue Illusion
Justin wasn't much interested in sitting still, so after a while Sheri carried him up near the stage. I played another original tune, called "Blue Illusion," which I had written when Sheri was not much older than her son is now. The tune was a big hit with Justin.
---
February 1, 2012
This week we had a few more people in the pub, and they seemed to really enjoy the music. I noticed a guy at the end of the bar who applauded at the end of each tune, and seemed to be listening closely. On my break he came over and chatted. His name is Mike and he's a guitar player. He said he was really enjoying the music, and added, "It's nice to walk into a bar and hear such great guitar tone."
I was using the PA and my Traynor amp, and for the first time I was using an amp stand that gets the amp up off the floor and points it more to my ears. With that an the floor monitors, I could hear every note clearly, which makes it a lot easier to play.
Black Orpheus
"Black Orpheus" came out pretty well. I was getting great tone out of the bass notes, thanks to the amp and PA settings, so I used a more low notes in my solo than I usually do. I also did a lot of comping during my solo, because I was enjoying the full chord sounds. I did rush the tempo a bit during my solo, so I had to pull it back a bit as I came out of the solo and back to the head.
Night's Shadow
I played a few originals on this gig, as I usually do at the Barley Pub. I played "Night's Shadow," a minor blues I wrote many years ago. When I ended the tune, our friend Deb, who has been at most of my recent gigs in Dover, said "I like that one." In fact later she said that she enjoyed my originals more than the jazz standards. That's nice to hear!
---